We're there for you, with a range of support options
Visit our Support Website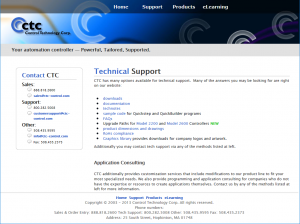 CTC maintains an extensive support website, including downloads, reference guides, data sheets, tutorials and other documentation. Visit the site at support.ctc-control.com.
Contact Us
We invite your call or email to discuss your application. Here are some of the options we offer for technical support:
Call us at +1-800-282-5008 or +1-508-435-9595.
Email tech support at customersupport@ctc-control.com.
Use our Distributor Locator to find a local reseller.
Contact us to arrange webinars or in-person training.
We offer support contracts for major installations.
We look forward to hearing from you!